Explore the neighborhood
Do you want to spread your wings and explore while camping with us?
Whether you are camping at Skeenah Creek Campground for rest and relaxation or to explore the North Georgia mountains. We believe you will find your perfect balance. If you are wanting to explore a little or a lot we have so many options available for you. Here are some of our favorite things to do near and far.
Van Zandt's Riverwalk Grill & Groceries
2.7 miles, closes 4pm
Breakfast and Lunch, Ice, Drinks & Snacks.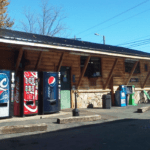 4.5 miles, closes at 6pm, Gas, Breakfast, Lunch, Groceries, Ice, Gifts, Fried Peach & Apple Pies.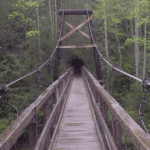 Toccoa Swinging Bridge
3⁄4 miles south on Hwy 60, on the right, drive in about 3 miles on gravel road to parking. A short, kid-friendly hike to bridge.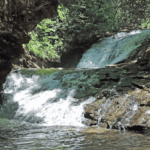 Across from Coopers Creek General Store, off Coopers Creek Rd. Easy, flat 0.5 mile walk in and out. Area to swim at base of falls.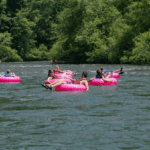 Tubing down the Toccoa River, 6 miles, Closed Sundays, No Alcohol.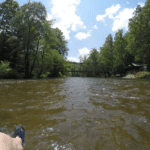 Blue Ridge Tubing and Iron Bridge Café & General Store
8.6 miles Open 7 days a week, 2.5 miles, Alcohol Permitted. Drive over bridge, then turn right to access public kayak / tubing launch, great river views! Great breakfast, burgers and sandwiches.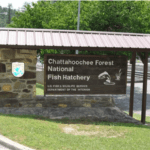 Chattahootchee Forest National Fish Hatchery
8.2 miles, Open Mon-Fri; 8am-3pm, Free Admission.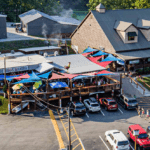 Lake Blue Ridge Marina's Boat Dock Bar & Grill
Best smoked chicken wings! Beautiful view of Lake Blue Ridge and mountains!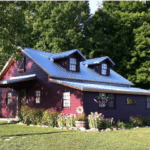 Take 60 North for 7 miles, on the right, dog-friendly
great outdoor pavilion with a view! *Try the signature Skeenah red wine, named after our mill!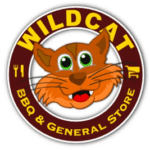 Best BBQ in the area! 10 miles south on SR 60, on the right side.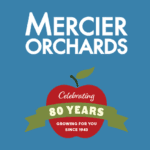 Great Food, Gifts, Tours, Blue Ridge, Highway 5.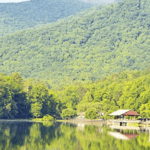 Hiking and Trahlyta Falls.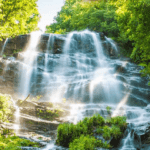 Amicalola Falls State Park and Lodge
Paved trail up to the falls (w/a few series of steps) Drive up to the top great views on the lodge's back deck.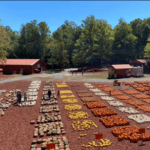 Near Amicalola Falls great fall festival, pumpkin patch and hayride (fall months), No Pets.
Historic Downtown
Unique shops for all ages; restaurants; candy stores; Blue Ridge Train.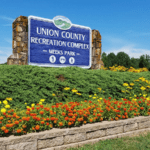 Blairsville, 13 miles Right on Skeenah Gap Rd, Right onto Old Blue Ridge Hwy, Huge park with kid friendly creek; dog park; playground; nature trails; skate park; fitness course.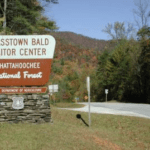 28 miles, Highest elevation in Georgia; 360* view of 4 states, $5 per person entry, shuttle to observation deck, visitor center, theater.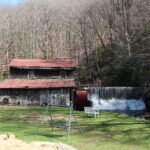 Our very own piece of history! Sit and enjoy the Mill & waterfall for peaceful viewing and relaxation.
Before you pack
As you can see, there are so many things to do while visiting Skeenah Campground & Mill!
We have listed a few things to know before you head our way. If you have any questions, please do not hesitate to reach out to us.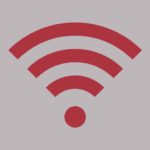 WIFI
Guesthouse
or
Campground
NO password required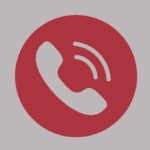 CELL SERVICE
is usually not available driving in so be sure to screenshot directions to refer to.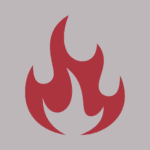 FIREWOOD
available for purchase in campground. Please do not bring firewood in from outside 3 hour drive area.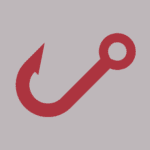 FISHING
is allowed without permit in the creek in Skeenah campground.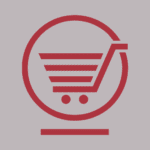 SHOPPING
right out campground onto Skeenah gap rd, turn right on Old Blue Ridge hwy, about 6 miles on left, Walmart turn left at corner of Dollar General, cross Hwy 515, Walmart on right.